Details
From Manymay.com

This program is free software: you can redistribute it and/or modify
    it under the terms of the GNU General Public License as published by
    the Free Software Foundation, either version 3 of the License, or
    (at your option) any later version.

    This program is distributed in the hope that it will be useful,
    but WITHOUT ANY WARRANTY; without even the implied warranty of
    MERCHANTABILITY or FITNESS FOR A PARTICULAR PURPOSE.  See the
    GNU General Public License for more details.

    You should have received a copy of the GNU General Public License
    along with this program. 

If you have any request use the  contact page to get in touch with us.

   
    This program comes with ABSOLUTELY NO WARRANTY.
    This is free software, and you are welcome to redistribute it
    under certain conditions.
THERE IS NO WARRANTY FOR THE PROGRAM, IT'S MEANT FOR TESTING AND NOT FOR COMMERCIAL USE.  YOU USE IT AT YOUR OWN RISK
Appthemes Ideas 1.3 Wordpress Theme
Give your customers their own space to create, discuss, and vote for ideas or suggestions and engage them on your site.
Ideas is a productivity theme which allows you to listen and engage your customers. Whether it's a Web site suggestion, a new feature request for your product or a debate site — the Ideas theme will help bridge the communication gap.
Forums are an effective tool for discussion but not so effective if you need to monitor customers feedback. Ideas collects and prioritizes feedback from customers in a structured way. Customers post their suggestions, organized in categories, and others vote up or down. Votes are limited, which helps focus on the essential.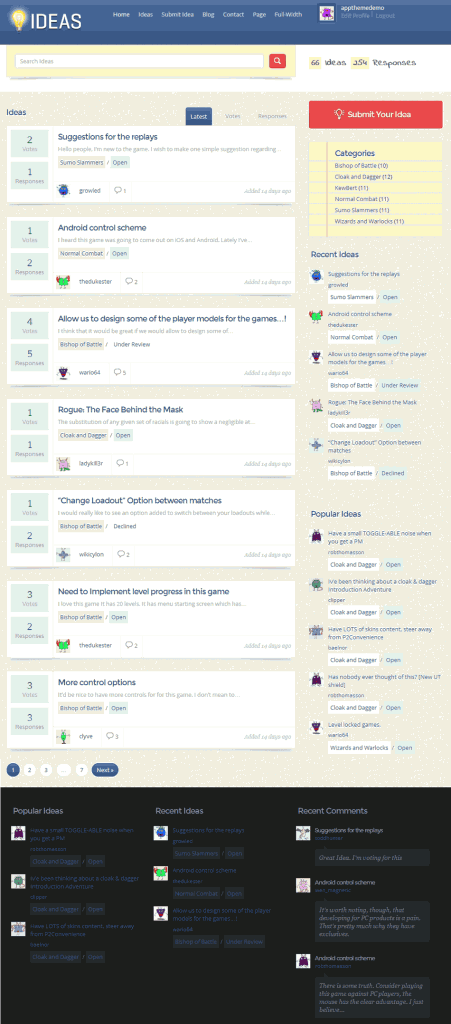 Main Features
Control Votes
Site owners have full control over the total available votes for each user. Votes can be automatically reset each month.
Moderate Ideas
Control new Ideas before they are published. Idea authors are instantly notified by email as soon as their ideas are approved.
Independent Statuses & Categories
Ideas categories and statuses are custom taxonomies. You can add any statuses and/or categories separately from the posts categories and statuses.
Address Each Submission
Your response to ideas are displayed at the top of the page so your customer base knows exactly where it currently stands.
Integrated Discussion Settings
Ideas integrates with WordPress discussion settings. Control any discussion related options like threaded comments or comments moderation, directly from WordPress discussion page.
Fully-Functional Backend
Admins can add, edit and moderate ideas directly from the backend and there are additional panels that help communicate each idea's status, publicly or internally. You can also view the total votes for the idea being edited and instantly reset it.
Widgets, Widgets and Widgets!
Ideas works with all the native WordPress widgets plus custom widgets including: popular ideas, recent ideas, recent comments, quick info, idea voters and stats, for different locations in the theme.
Tags