Details
From Manymay.com

This program is free software: you can redistribute it and/or modify
    it under the terms of the GNU General Public License as published by
    the Free Software Foundation, either version 3 of the License, or
    (at your option) any later version.

    This program is distributed in the hope that it will be useful,
    but WITHOUT ANY WARRANTY; without even the implied warranty of
    MERCHANTABILITY or FITNESS FOR A PARTICULAR PURPOSE.  See the
    GNU General Public License for more details.

    You should have received a copy of the GNU General Public License
    along with this program. 

If you have any request use the  contact page to get in touch with us.

   
    This program comes with ABSOLUTELY NO WARRANTY.
    This is free software, and you are welcome to redistribute it
    under certain conditions.
THERE IS NO WARRANTY FOR THE PROGRAM, IT'S MEANT FOR TESTING AND NOT FOR COMMERCIAL USE.  YOU USE IT AT YOUR OWN RISK
Aggregate Features
1. Five Basic Colorschemes – Aggregate comes with five different colorschemes to choose from, including Brown, Blue, Green, Red and Black.
2. Infinite Color Combinations – While the theme comes with five color schemes to start with, you can customize the theme's colors even further from within ePanel. Our new Color Control panel gives you an easy way to visualize your changes, and ePanel gives you an easy way to make these changes come to life.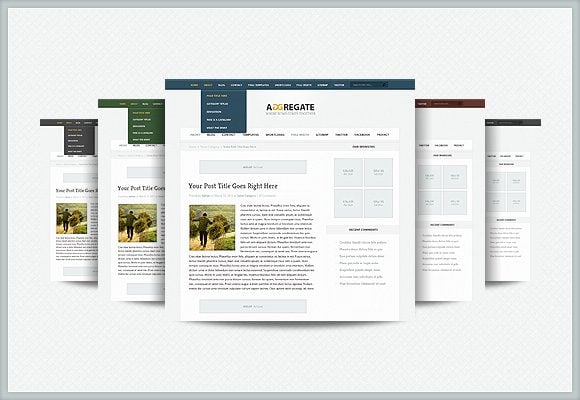 3. Four New Ad Areas – Aggregate comes with several advertisement areas where you can add 125×125, 468×60 and 728×90 ads. The theme also comes with tons of widget-ready areas, including a sidebar, footer and 6 additional modules on the homepage where ads can be easily added.
4. New Custom Widgets – The theme comes with some new widgets that were created just for Aggregate. These include the Recent Videos, Photostream, Popular Posts and Recent From widgets. All of these can be seen on the homepage of the demo.
Tags